I love this recipe so much! It took a while for us to make it just right for us but now that we have it is one of my most favorite recipes ever! Luckily for me it is good for you too!
You will need:
Jamaican Jerk Marinade
Tilapia
(we usually need about 2lbs for our 7 member family
but you can use how much you will eat at about an oz per taco)
Corn tortillas (warmed)
8oz Salsa Verde
16 0z Fat Free Sour Cream
Chopped chunky avocado
Shredded cheese
Black beans drained and rinsed
First, place the fish in the marinade and let it soak over night. When it is time to prepare the tacos grill the fillets in the oven broiler for approx 6-8 minutes or until it begins to brown. We used our George Forman Grill for about 4 minutes at a time. Put all the fillets in a bowl. Meanwhile, stir the sour cream and salsa Verde together to make a white sauce. Once all of the cooked fish is in your bowl, gently take a fork and lightly stir or shred until the fish is in a chunky shred. Now place about 1 oz of fish on a tortilla, cover fish with about 2Tbs of white sauce top with approx 1/2 oz shredded cheese and TBS of black beans and chunks of avocado. Fold and eat. Yummy!
Oh so yummy and low calories
only 256 per taco!!
ps you could lower to cals even more if you used low fat torillas and low fat cheese

Be sure to check out all the parties I have linked too! These are some of my favorite blogs!!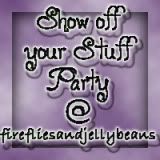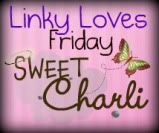 "